Denne side er et supplement til BioNyt Videnskabens Verden, bionyt.dk
Se videoer fra March for Science i København 22. april 2017 bionyt@gmail.com
MARCH FOR SCIENCE
22. APRIL 2017 KØBENHAVN
Se video (start of the March, Anja C. Andersen m.fl. )
Anja C. Andersen Spokesperson March for Science København, Lektor, Dark Cosmology Centre, Niels Bohr Institutet
Jens Degett Formand Danske Videnskabsjournalister
Camilla Gregersen Formand Dansk Magisterforening
http://den2radio.dk/udsendelser/march-for-science/

København (Copenhagen) April 22, 2017
Hvad skal man svare børn, som spørger: Hvorfor går man i optog for videnskaben?
March for Science, lørdag 22 april 2017
København og Århus (se nedenfor).
København – lørdag 22 april 2017 kl.13
http://www.marchforscience.dk/koebenhavn/?lang=da
TALER VED NIELS BOHR INSTITUTTET
Anja C. Andersen Spokesperson March for Science København, Lektor, Dark Cosmology Centre, Niels Bohr Institutet
Jens Degett Formand Danske Videnskabsjournalister
Camilla Gregersen Formand Dansk Magisterforening
---
TALER VED CHRISTIANSBORG
Eske Willerslev Professor i evolutionær biologi, Direktør for Center for GeoGenetik, Statens Naturhistoriske Museum, Københavns Universitet
Vincent F. HendricksProfessor i formel filosofi, Direktør for Center for Information og Boblestudier, Københavns Universitet
Charlotte RønhofUnderdirektør i Dansk Industri (DI)
Dorte LangeNæstformand hos Dansk Lærerforening Næstformand hos den Europæiske Lærerforening ETUCE
Jørgen Peder SteffensenProfessor i Glaciologi og iskernekurator ved Centeret for Is og Klima på Niels Bohr Institutet, Københavns Universitet
Tine JessProfessor dr.med. og ledende overlæge ved Afdeling for Klinisk Epidemiologi, Bispebjerg-Frederiksberg Hospital, og medlem af Det Unge Akademi
Mogens Høgh JensenProfessor i Komplekse Systemer og Biofysik ved Niels Bohr Institutet, Københavns Universitet Præsident af det Kongelige Danske Videnskabernes Selskab
%%%%%%%%%%%%%%%%%%%%%%%%%%%%%%%%%%%%%%%%%%%%%%%%%%%%%%%%%%%%%%%%%%
Århus – lørdag 22 april 2017 kl. 14
http://www.marchforscience.dk/aarhus-march/?lang=da
TALERE
Carsten Ortmann Radiovært
Bent Hansen Regionsrådsformand
Hanne Rasmussen Vicedirektør, Novo Nordisk A/S
Poul Nissen & Daniel Otzen Professor Aarhus Universitet
Olav W. Bertelsen Fællestillidsmand og formand for universitetslærerene i Dansk Magisterforening
%%%%%%%%%%%%%%%%%%%%%%%%%%%%%%%%%%%%%%%%%%%%%%%%%%%%%%%%%%%%%%%%%%
http://www.marchforscience.dk/support/?lang=da
Støtter:
Akademikerne
The Alternative
Association of Professors at DTU
Astra
ATV – Danish Academy of Technical Sciences
Bibliotekarforbundet
BioNyt Videnskabens Verden
CBS – Copenhagen Business School
CBS Students
CED – Científicos Españoles en Dinamarca
Copenhagen Skeptics in the Pub
Danish Philosophical Society
DaMS – Danish Meteorological Society
DFS – Danish Physics Society
DI – Danish Industry
Danish Society of Cardiology
Danske Studerendes Fællesråd
Enhedslisten
EuroScience
Experimentarium
Forbrugerrådet Tænk
Rufus Gifford, former U.S. ambassador
GL – Gymnasieskolernes Lærerforening
Hjerteforeningen
IDA
IFF – Copenhagen Institute for Future Studies
Lægeforeningen
Lundbeck Foundation
PF – Polyteknisk Forening
Pharmadanmark
PLEN – Department of Plant and Environmental Sciences
Politiken
De Progressive
PUFF – Panum's Youth Research Association
Regensen Symposion
Retsforbundet
Royal Danish Academy of Sciences and Letters
RV – Danish Social Liberal Party
Science and Cocktails
Seaborg Technologies
Selskabet for Naturlærens Udbredelse
SingularityU
Syddanske Studerende
Tænketanken Frej
University of Copenhagen
University of Southern Denmark
Venstre
Videnskab.dk
Yngre Læger
The Young Academy
Zero Waste Danmark
PRESS RELEASES
ARTIKLER
Planlægningsgruppe, partnere og arrangører
---
Dr. Ian G. Bearden, Prof. MSO, Niels Bohr Institute, Københavns Universitet.
Dr. Samir Ben Chaabane. Organising and administration. PhD in Plant Biochemistry from University of Copenhagen.
Frederik Dalgaard, MD, PhD-student, Gentofte University Hospital
Jens Degett, M.Sc.in biology. Chair of Danish Science Journalists, President of European Science Journalists Association (EUSJA)´.
Dr. Elke Fasshauer: Mission and Speakers / Postdoc in theoretical chemistry, Københavns Universitet.
Dr. Christine Heller del Riego, Ph.D. in Electrical Engineering from l'Université Pierre et Marie Curie in Paris, currently developing Science & Art projects at WAIART.
Dr. Stinus Lindgreen: Endorsements and support / Ph.D in bioinformatics from University of Copenhagen, currently Research Scientist at Steno Diabetes Center Copenhagen.
Nancy Munford: Web & digital media / Multi-media visual artist and designer based in Copenhagen.
Daria Krivonos: Organising and planning / Senior Risk Advisor, A.P.Møller-Mærsk
Carsten Gram Andersen: Organising and planning / Science enthusiast, VP of Finance at Lundbeck
Anja Høj Wester: Organising and planning, Cand. Scient. idræt
PARTNERE
---
MISSION & VÆRDIER
---
March for Science er en hyldest til videnskab. Det handler ikke om forskere eller politikere; det handler om den essentielle rolle, som videnskab spiller i vores liv, og om behovet for at respektere og støtte op om forskning, som skaber indsigt i den verden der omgiver os. I betragtning af de bekymrende tendenser til at miskreditere videnskabelig ekspertise og konsensus og begrænse den videnskabelige udvikling, stiller vi spørgsmålet: Kan vi tillade os ikke at forsvare vores alles bedste interesser?
March for Science understreger i klare vendinger vigtigheden af at prioritere sundt finansieret og offentligt kommunikeret videnskab, som et bærende element i menneskelig frihed og velstand. Vi forener os som en mangfoldig og tværpolitisk gruppe og støtter op om videnskabens centrale rolle i at opnå vores fælles bedste. I offentlighedens interesse appellerer vi til at politiske ledere i højere grad implementerer videnskabelig evidens i den førte politik.
Folk som værdsætter videnskab har for længe været tavse. Set i lyset af den politiske udvikling som tilsidesætter videnskabelig evidens og truer menneskeliv og vores verdens fremtid, er det blevet tid til at råbe vagt i gevær. Trusler mod videnskaben må ikke accepteres; forsøg på yderligere at begrænse videnskabsfolks muligheder for at forske og formidle deres opdagelser må ikke tolereres. Vi må alle stå sammen for at støtte op om videnskaben. At kunne se passivt til er et privilegium, men ikke længere en mulighed.
Politikernes kontrafaktiske dagsordener er til skade for alle uden undtagelse. Videnskab bør ikke styres af særlige interesser eller afvises pga. personlige overbevisninger. Videnskab er menneskehedens bedste redskab til at opnå indsigt og finde løsninger.
Den bedste måde at sikre videnskabeligt fremskridt er at opfordre almindelige mennesker til at værdsætte vigtigheden af videnskab og engagere sig i debatten om videnskab og politik. Dette opnås bedst med en sund kultur for kommunikation, uddannelse og gensidig respekt mellem videnskabsfolk og deres samfund. Der har alt for længe været en afkobling mellem det videnskabelige samfund og den brede offentlighed. Det er på tide at få videnskaben ud af laboratorierne og tidsskrifterne og inddrage omverden i højere grad.
%%%%%%%%%%%%%%%%%%%%%%%%%%%%%%%%%%%%%%%%%%%%%%%%%%%%%%%%%%Demonstrators Take to the Streets in Support of ScienceIn more than 500 locations world-wide, tens of thousands gathered to take part in the first "March for Science," part of a movement among researchers and scientists toward…Apr 23, 2017
Search results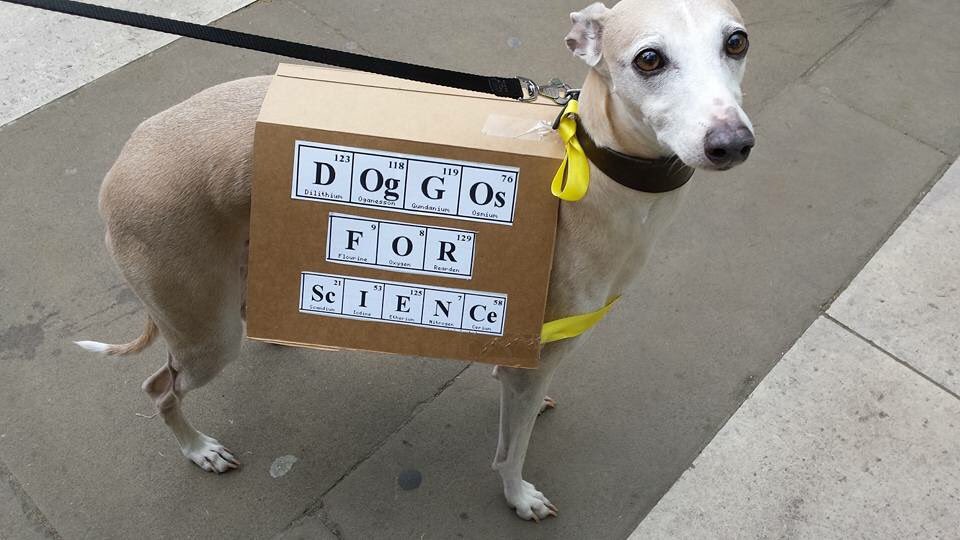 Another funny sign at the march for science. #**marchforscience**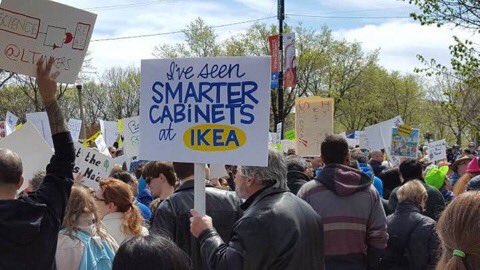 Women in science share important advice for the next generation http://cnn.it/2oxZH0y #**marchforscience**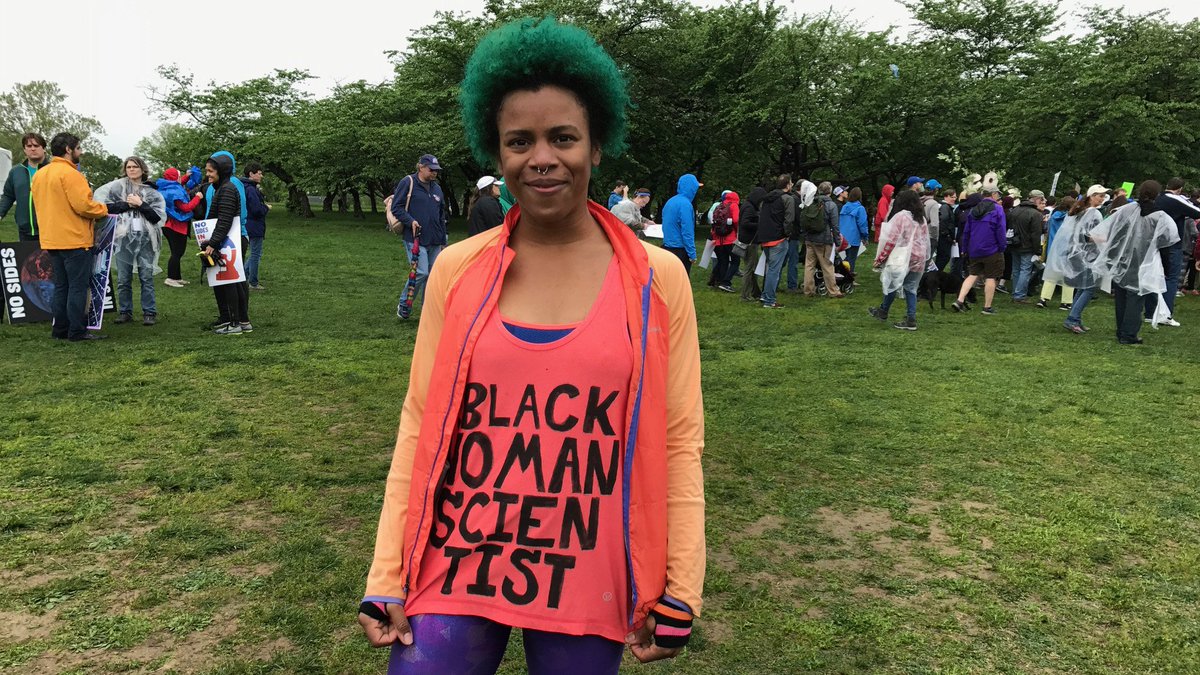 People #**MarchforScience** in Uganda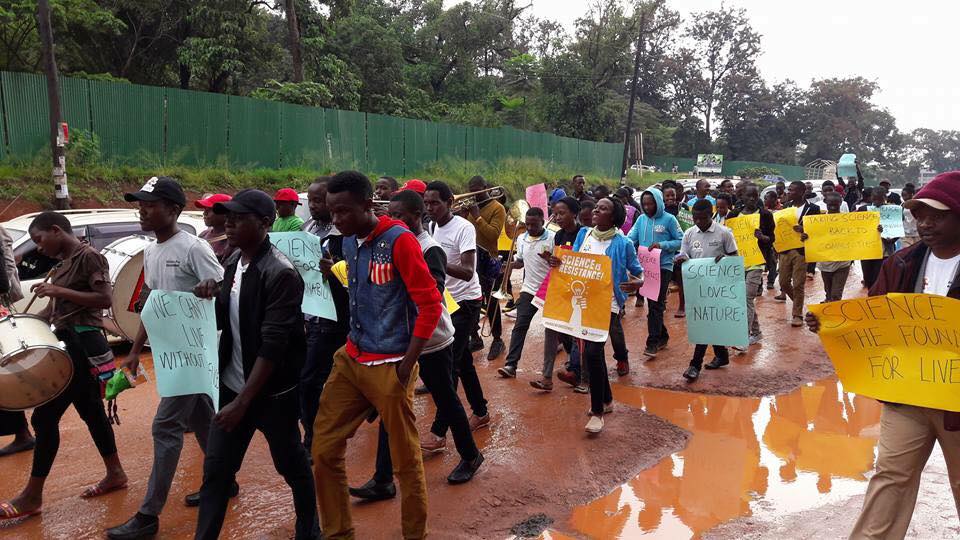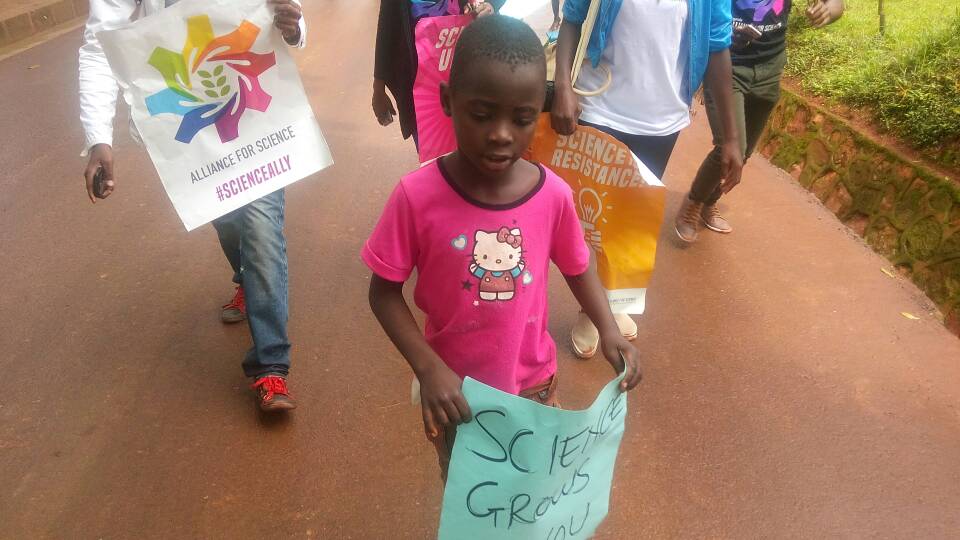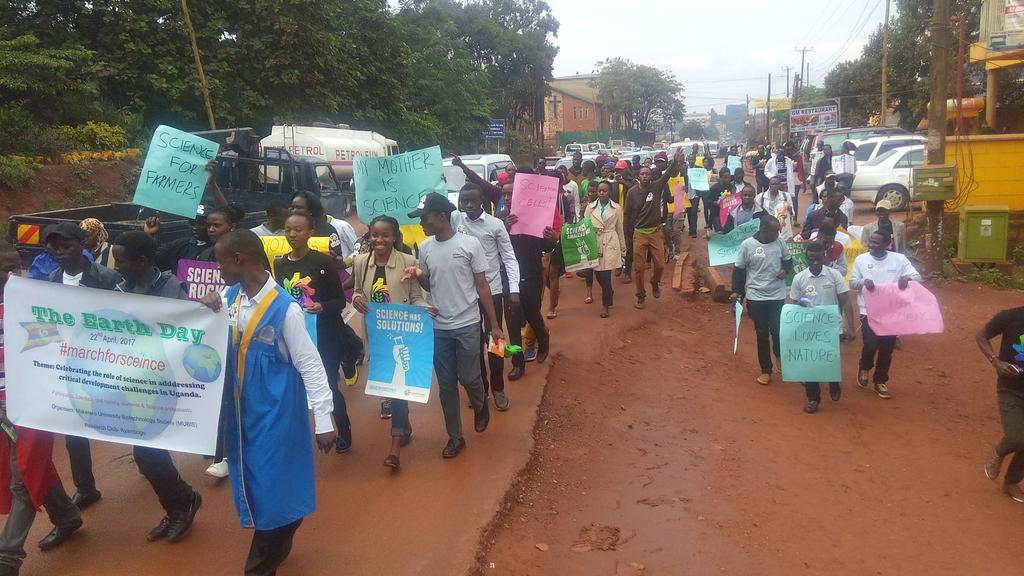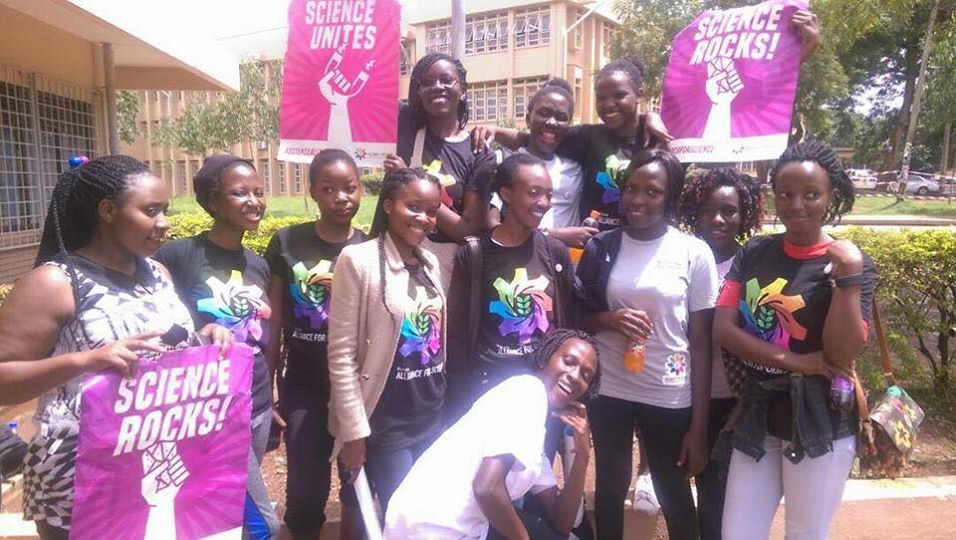 Thousands of scientists have taken to the streets across America in support of science and research. #**marchforscience** #7News
Retwee
Thousands across the U.S. and the globe march for science in defiance of Trump http://huff.to/2owGdcp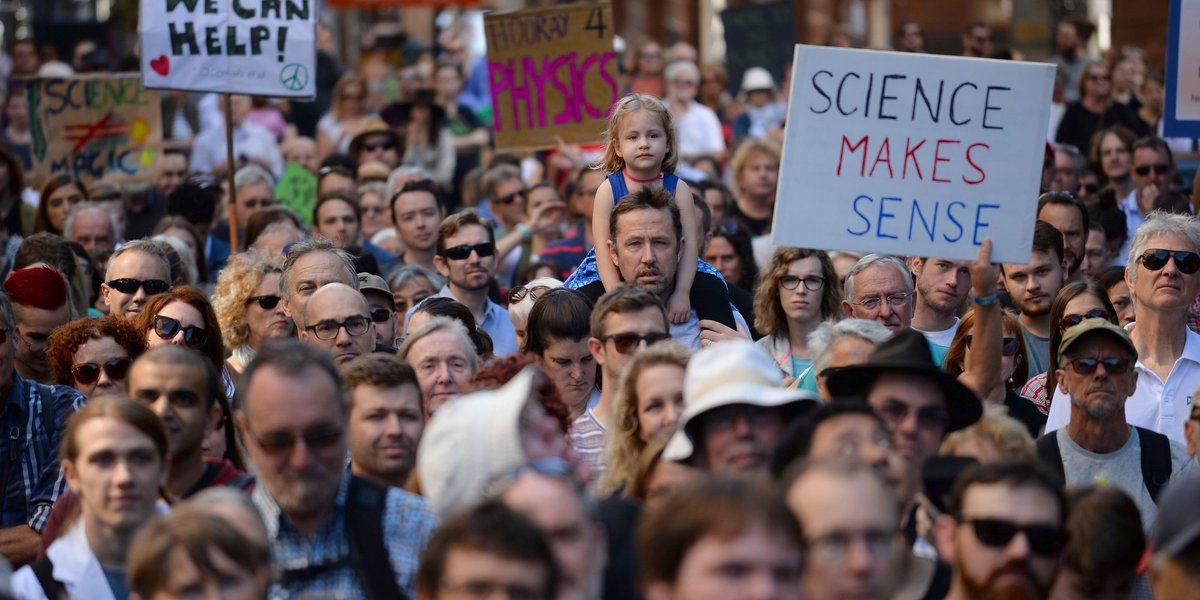 Video shows crowds at the #**MarchForScience** in Chicago from above http://cnn.it/2p47Lae
#**marchforscience** Brisbane, Australia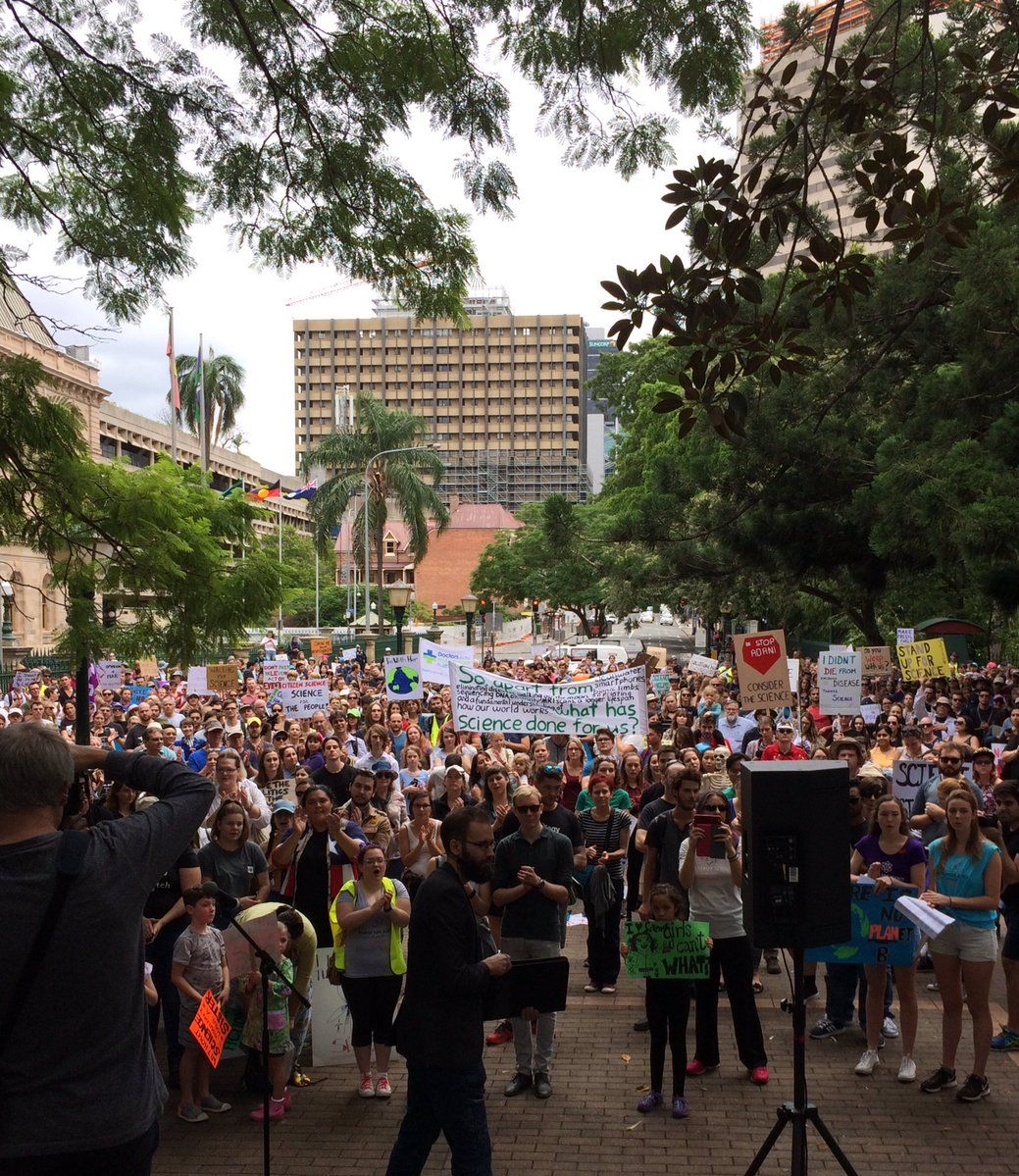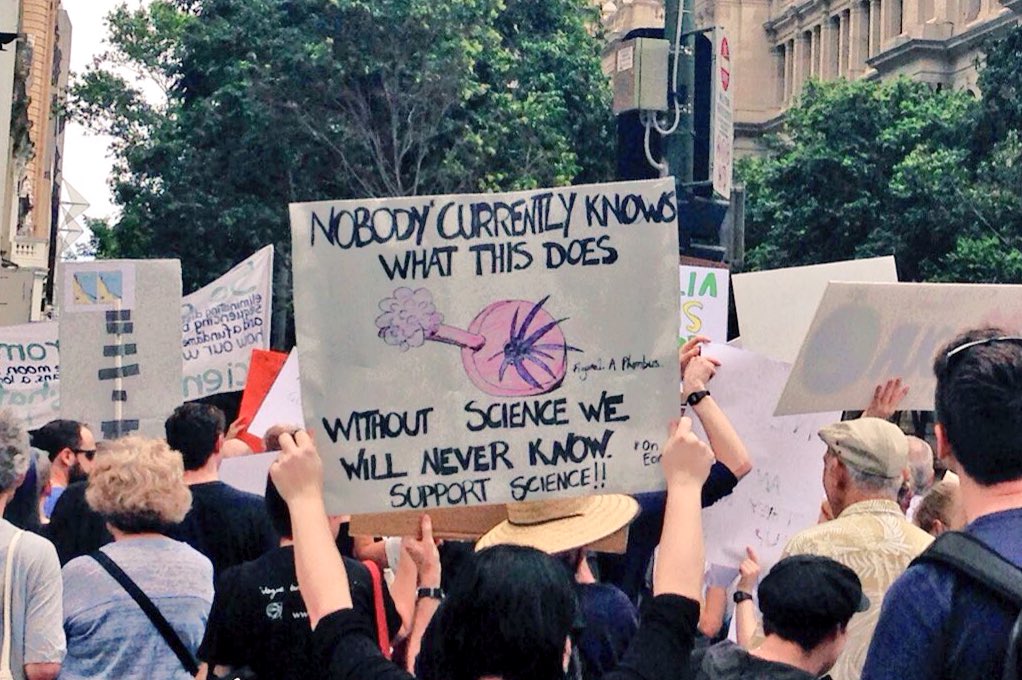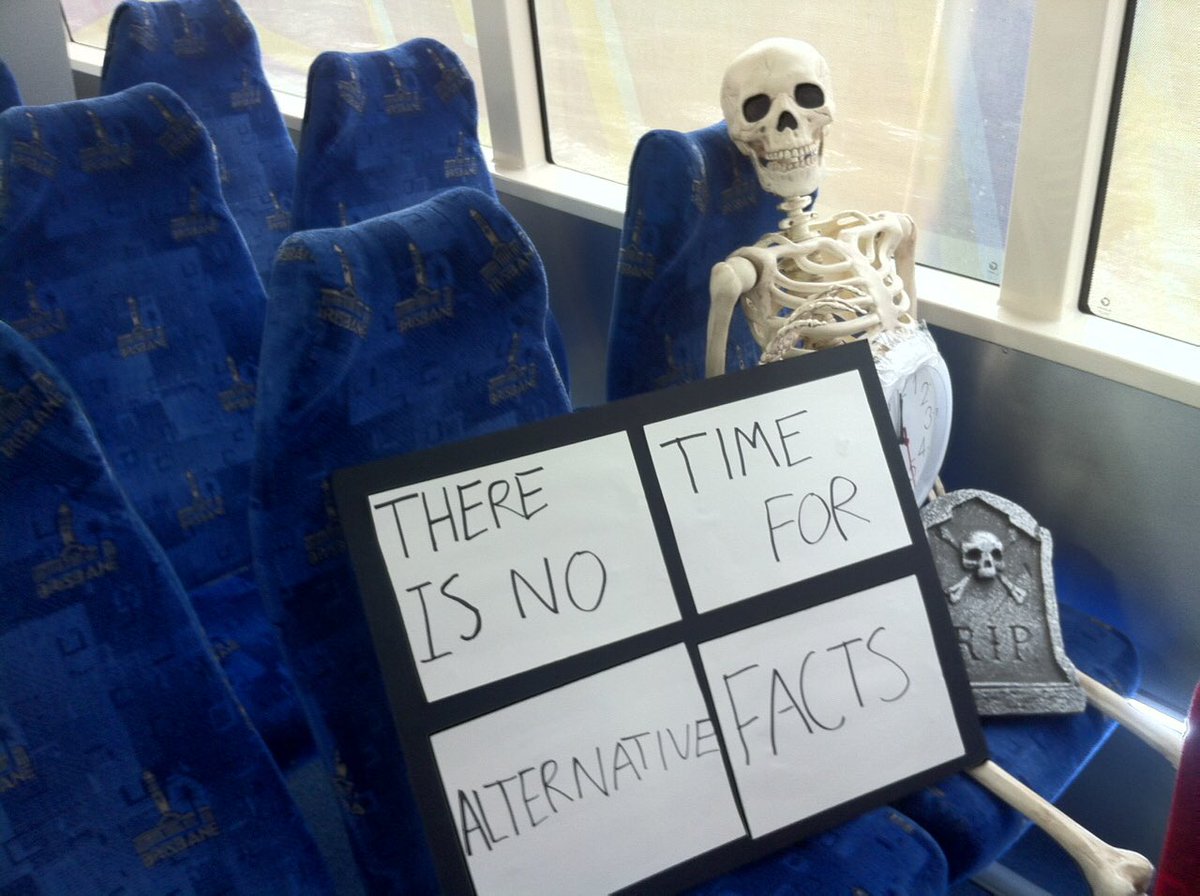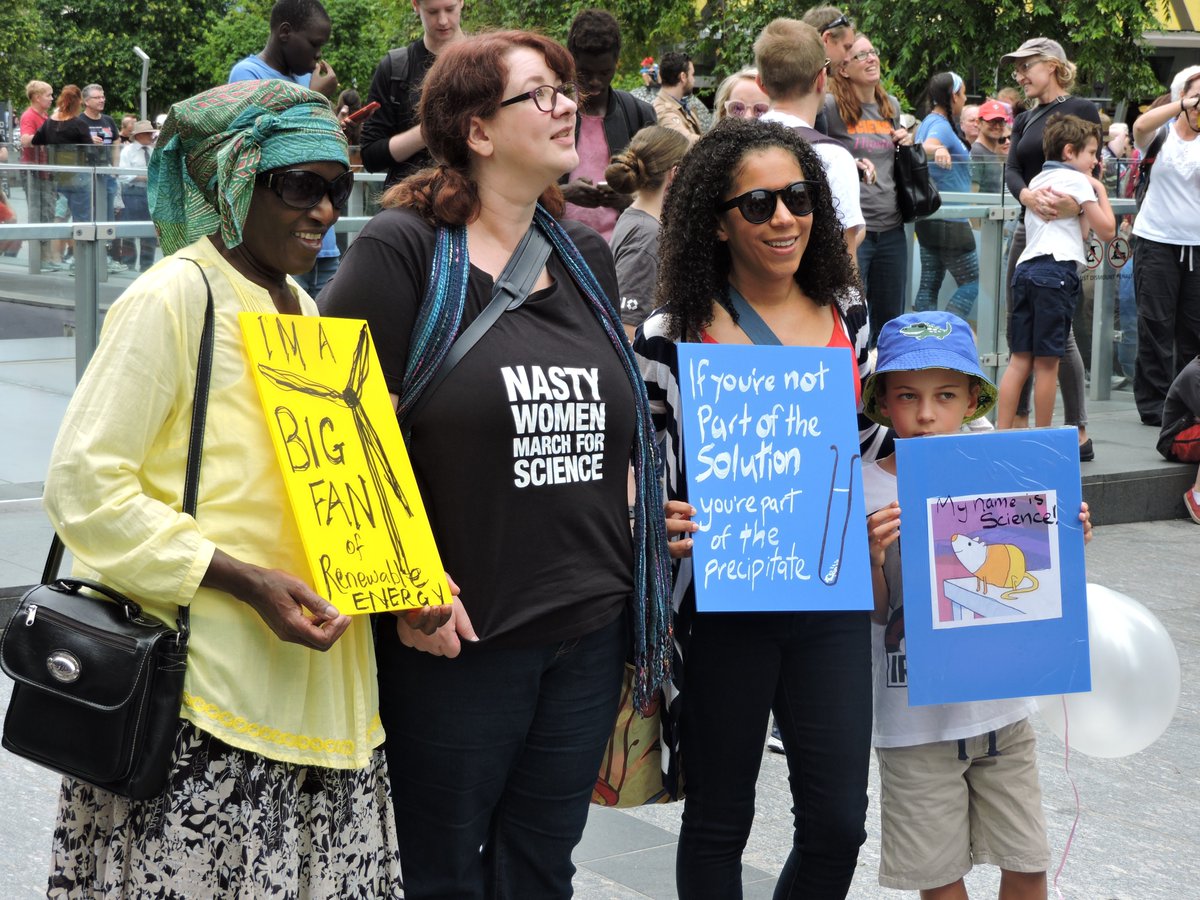 #**MarchForScience** rallies draw huge crowds around the US http://hill.cm/mXB6TXn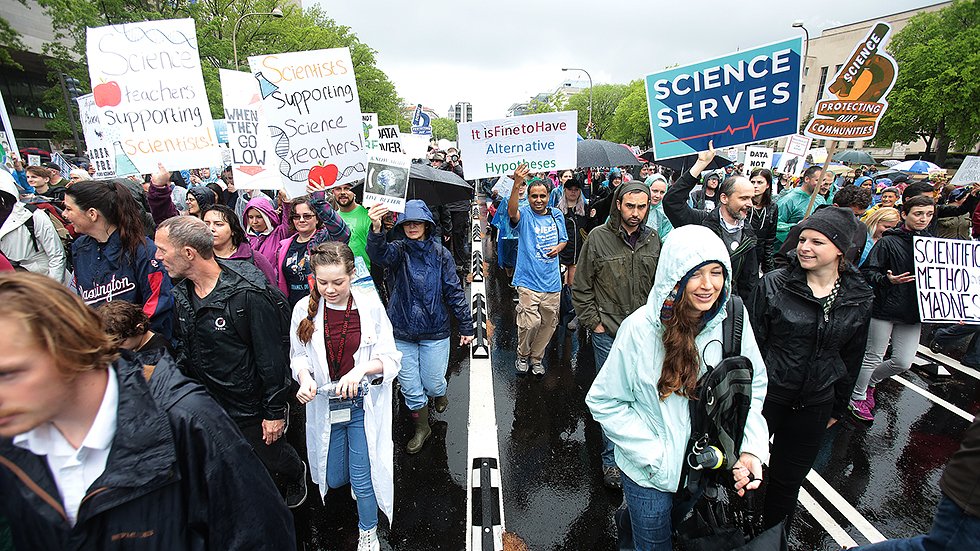 Here are some of the best signs from the march for science. http://slate.me/2pQKDw9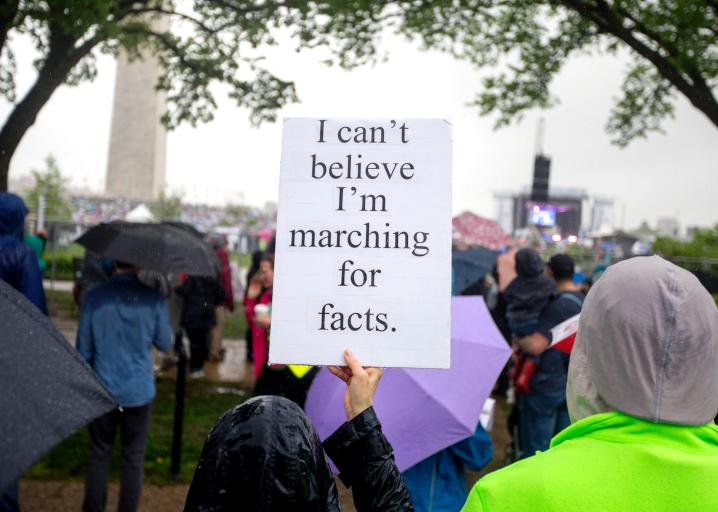 "I have seen the rise of fascism and I remember exactly how it happened. By deconstructing fact" – Ruth Rosner, born 1916 #**MarchForScience**

Climate researchers in Antarctica show support for #**MarchForScience** http://hill.cm/UMqvOOk

Thousands turn out for DC's #**MarchforScience** http://hill.cm/Rmafc9f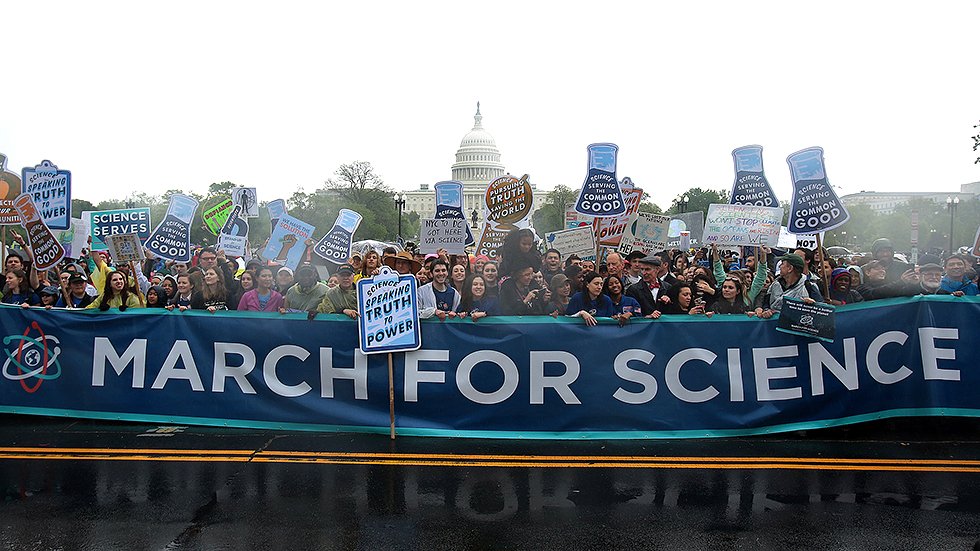 #**MarchForScience** rallies draw huge crowds around the US http://hill.cm/3sVZYhx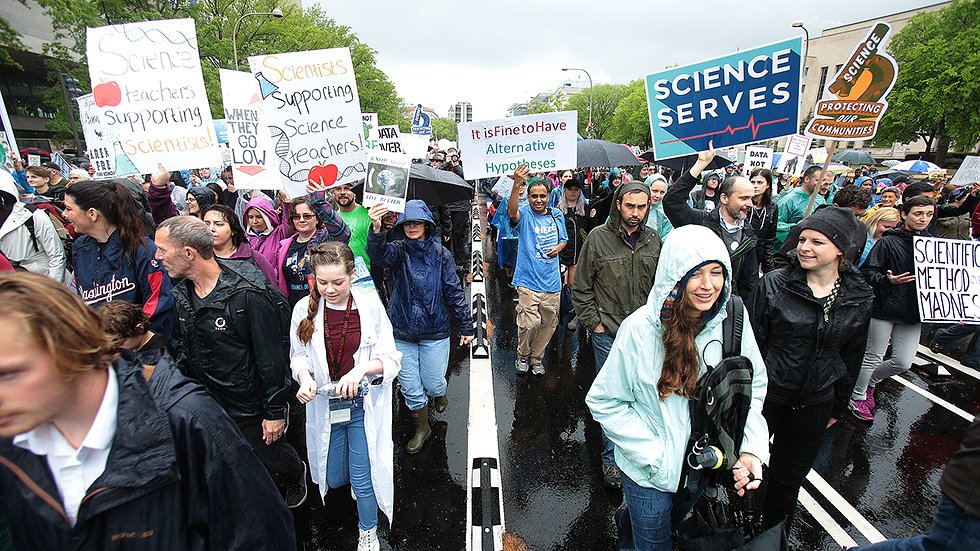 Trump supporters, you can attack the Resistance all you want, but make no mistake: We're here to stay. #**marchforscience**
March for Science added,
1:32
CNNVerified account @CNN
People took to the streets to march for science — around the world http://cnn.it/2p4bUen
At the end of an incredible day of resistance and resilience, Proud to join the #**MarchforScience**

🔬 movement!
My favorite sign so far #**MarchForScience**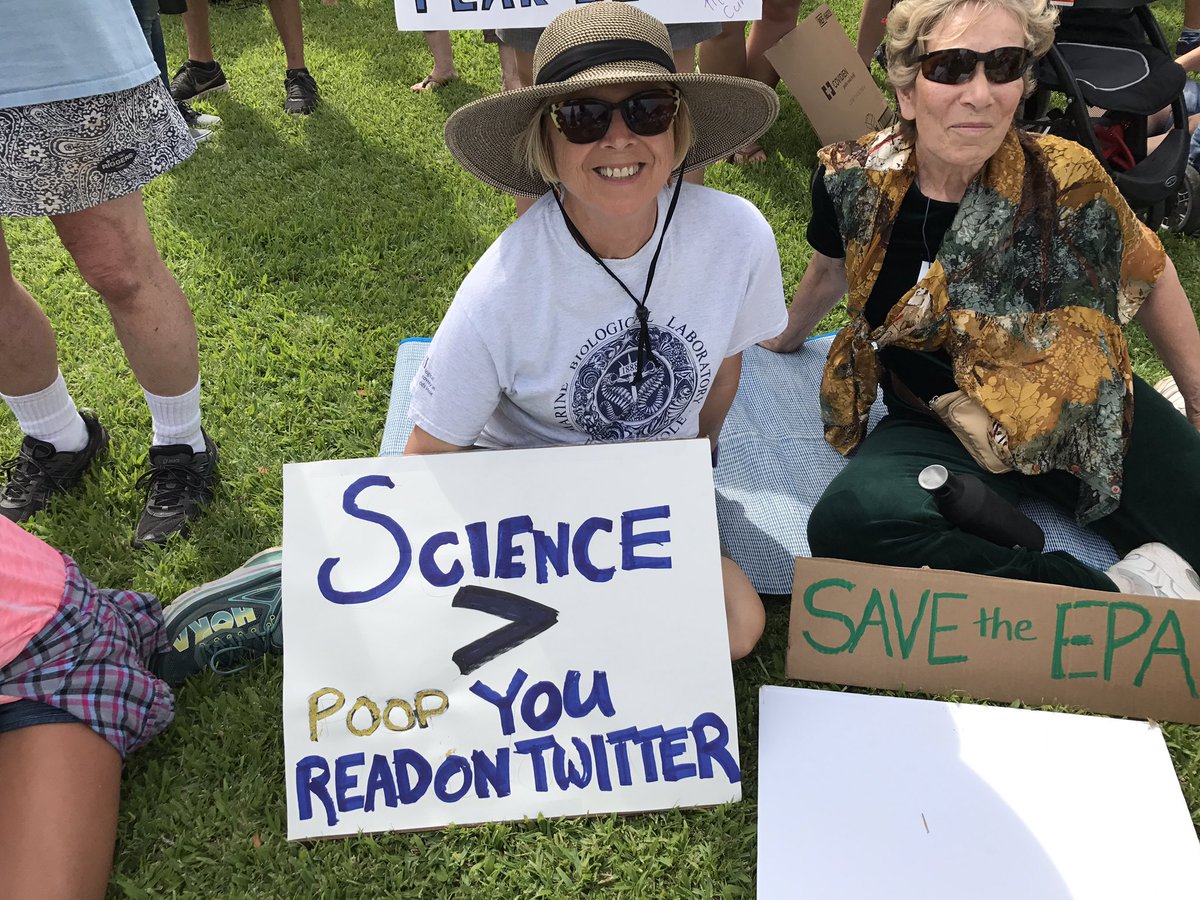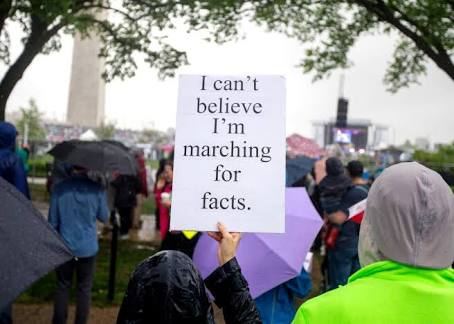 See more http://tweetedtimes.com/NestonESL?s=tnp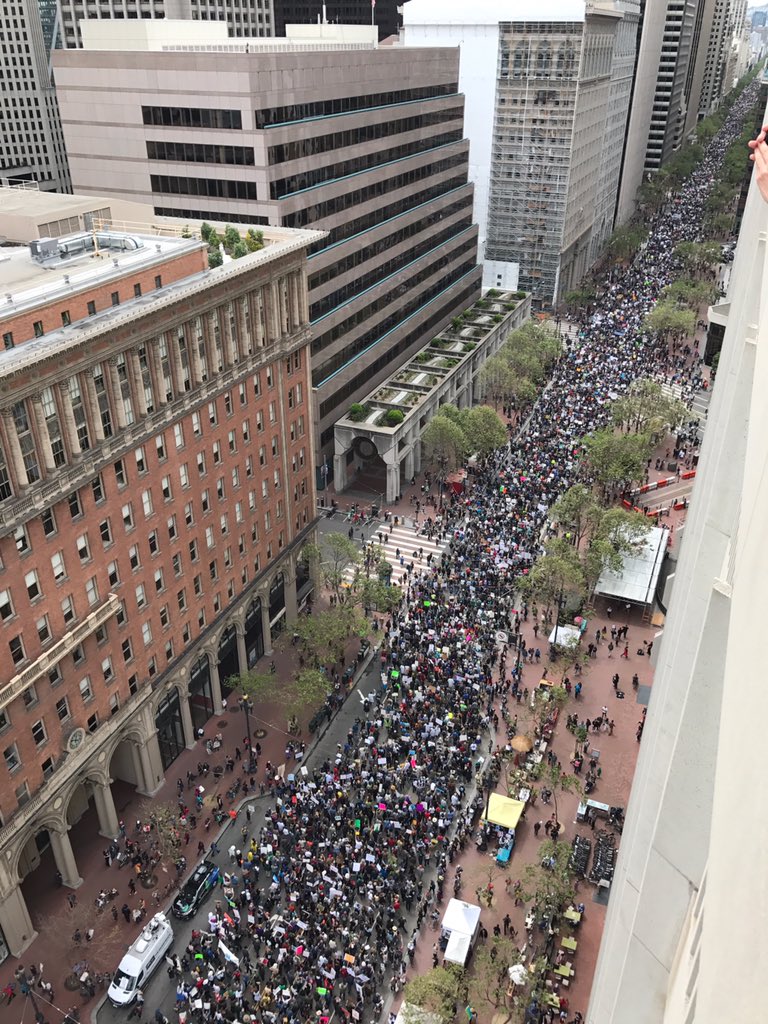 Their signs pretty much summed up all you need to know about Saturday's #**MarchforScience**. Our photo gallery here: http://www.sltrib.com/news/5207286-155/signs-of-the-time-march-for …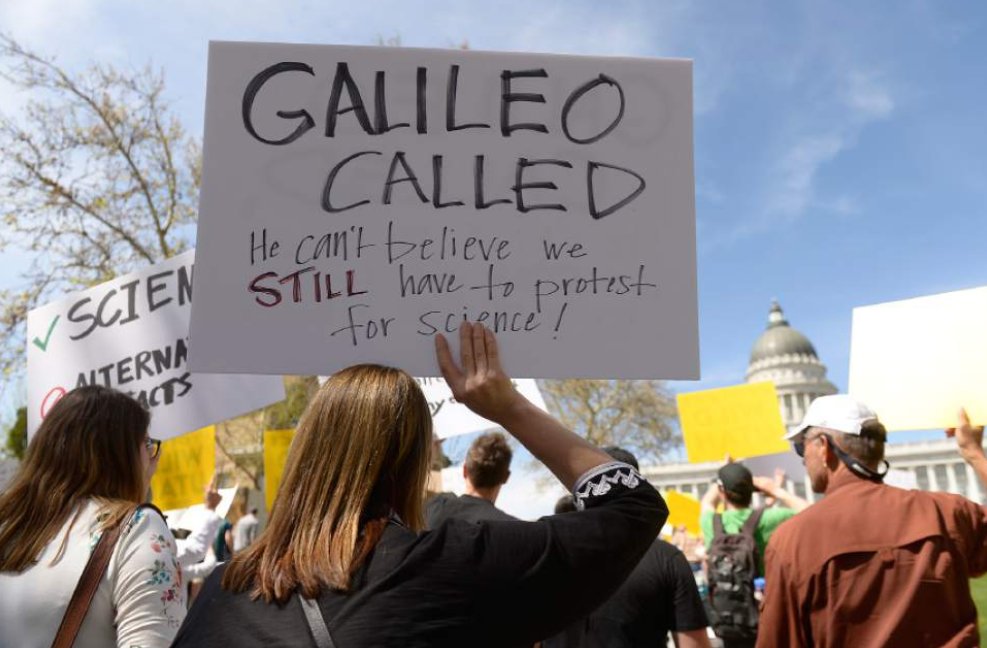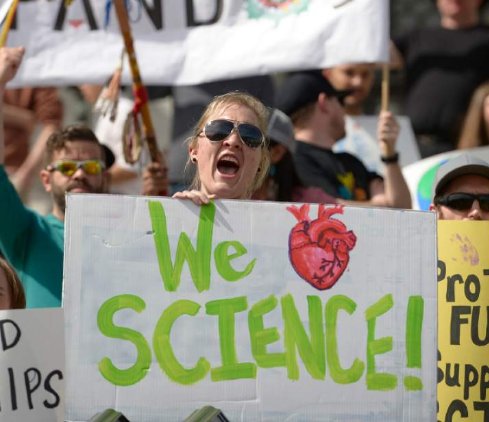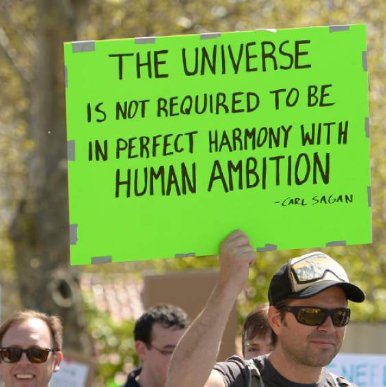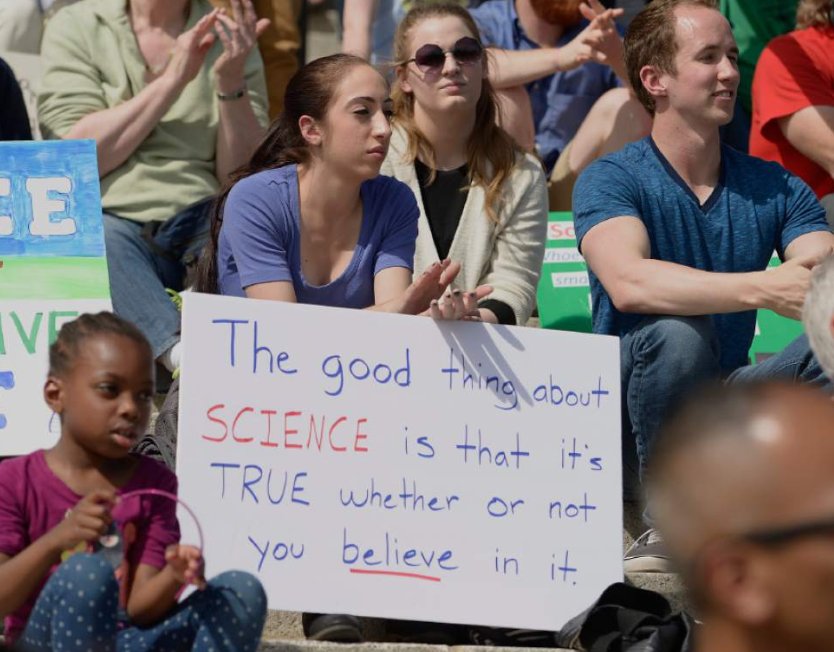 The March for Science has spread from pole-to-pole http://gizmo.do/JrLPxq3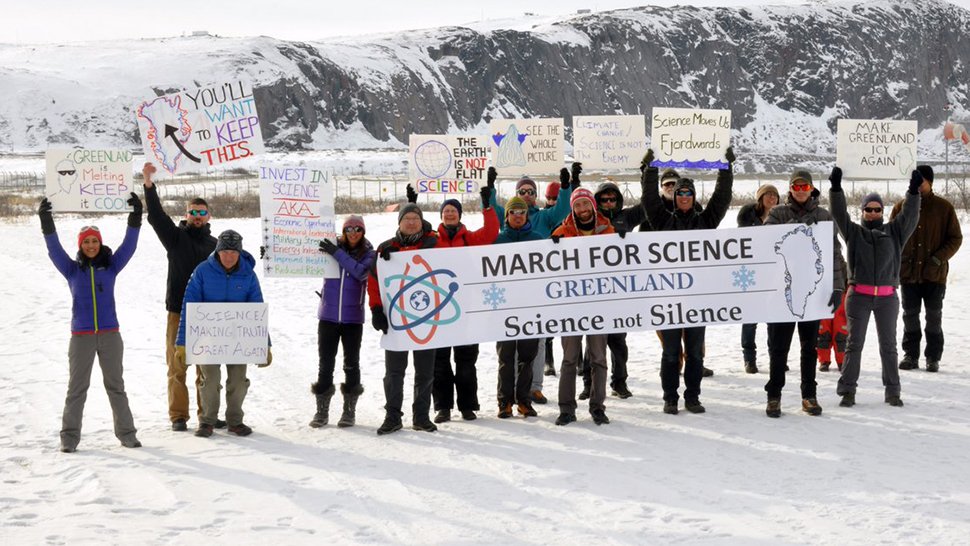 I like how this young girl has worded it so even the President of the United States can understand #**marchforscience**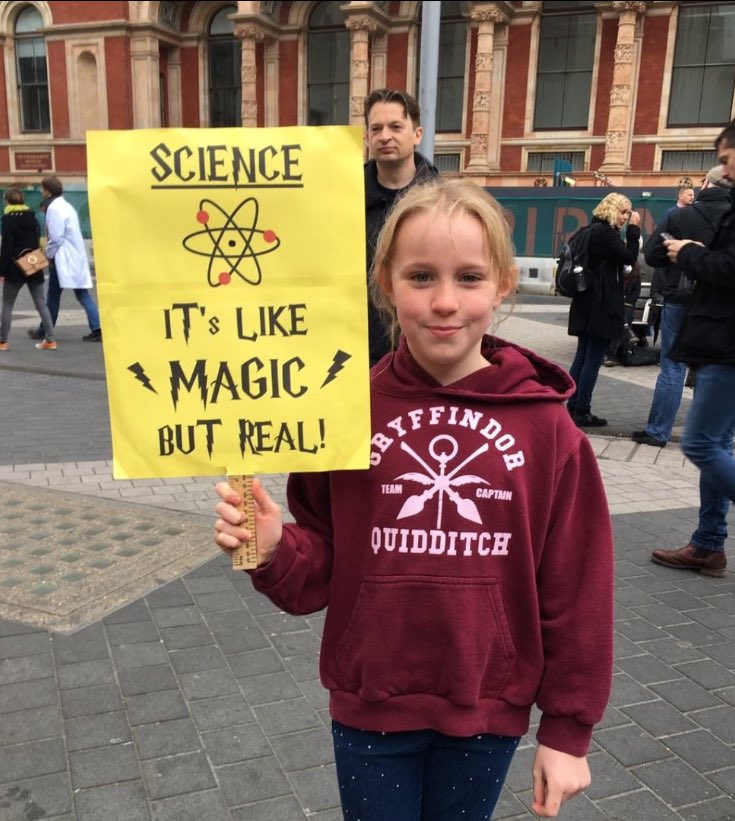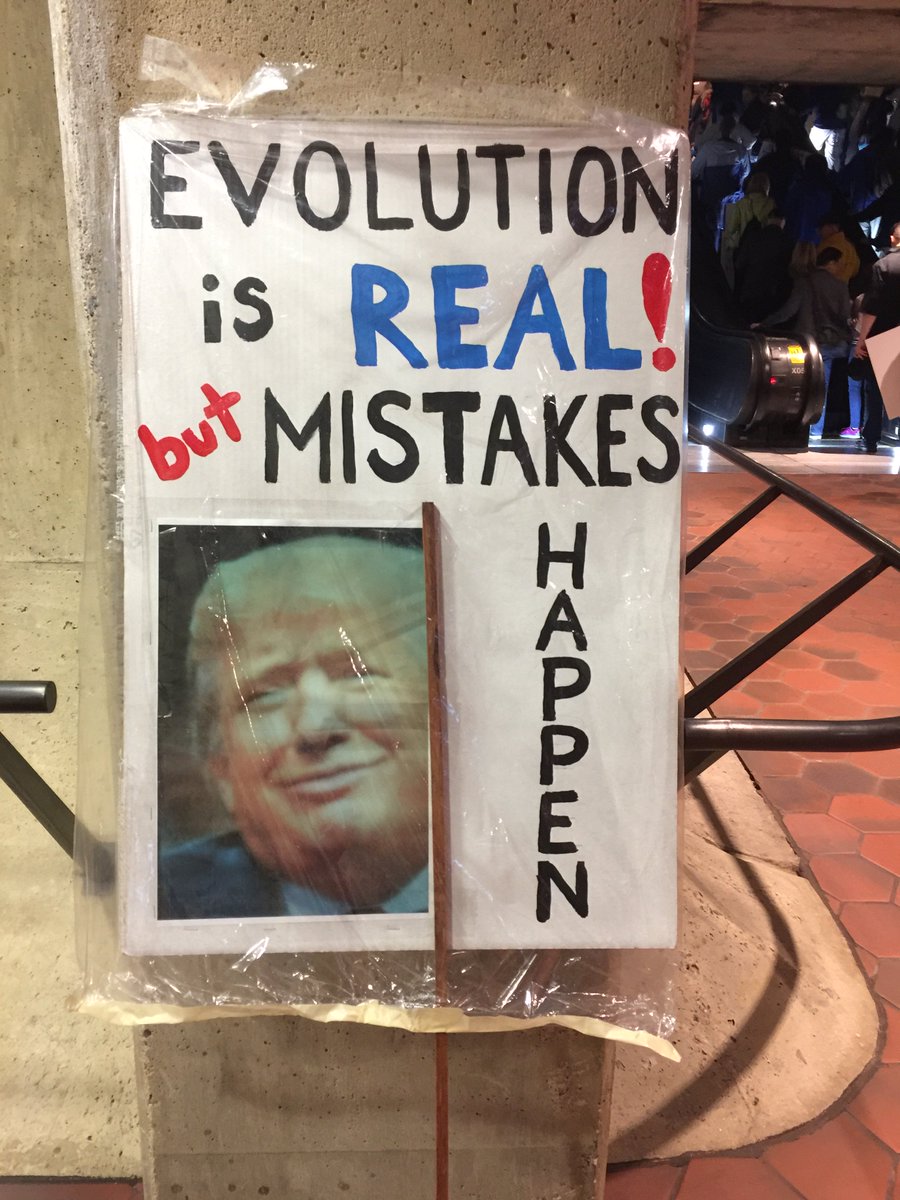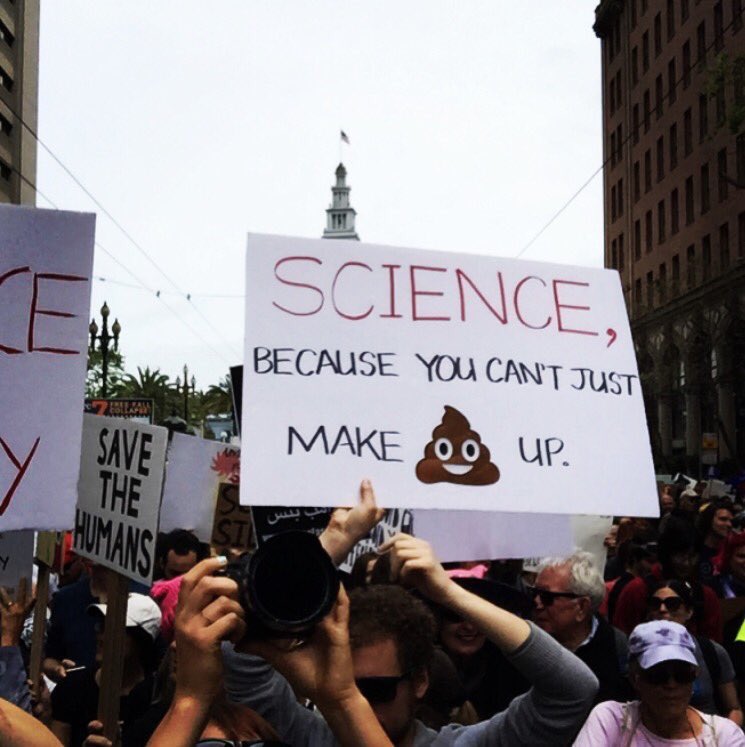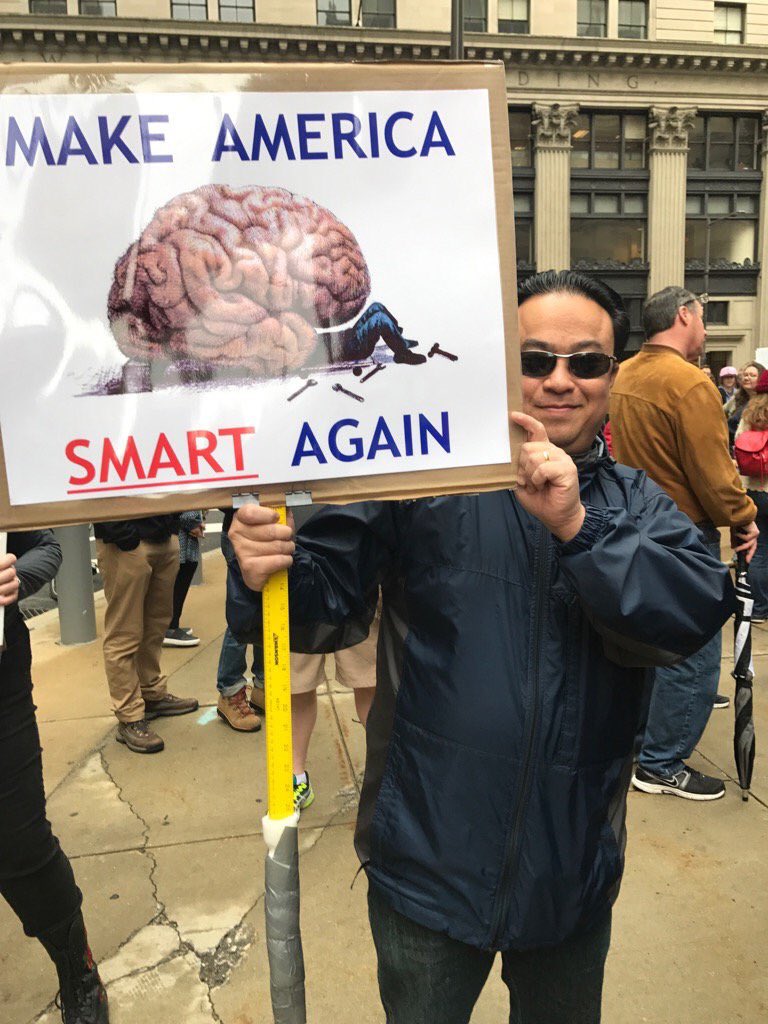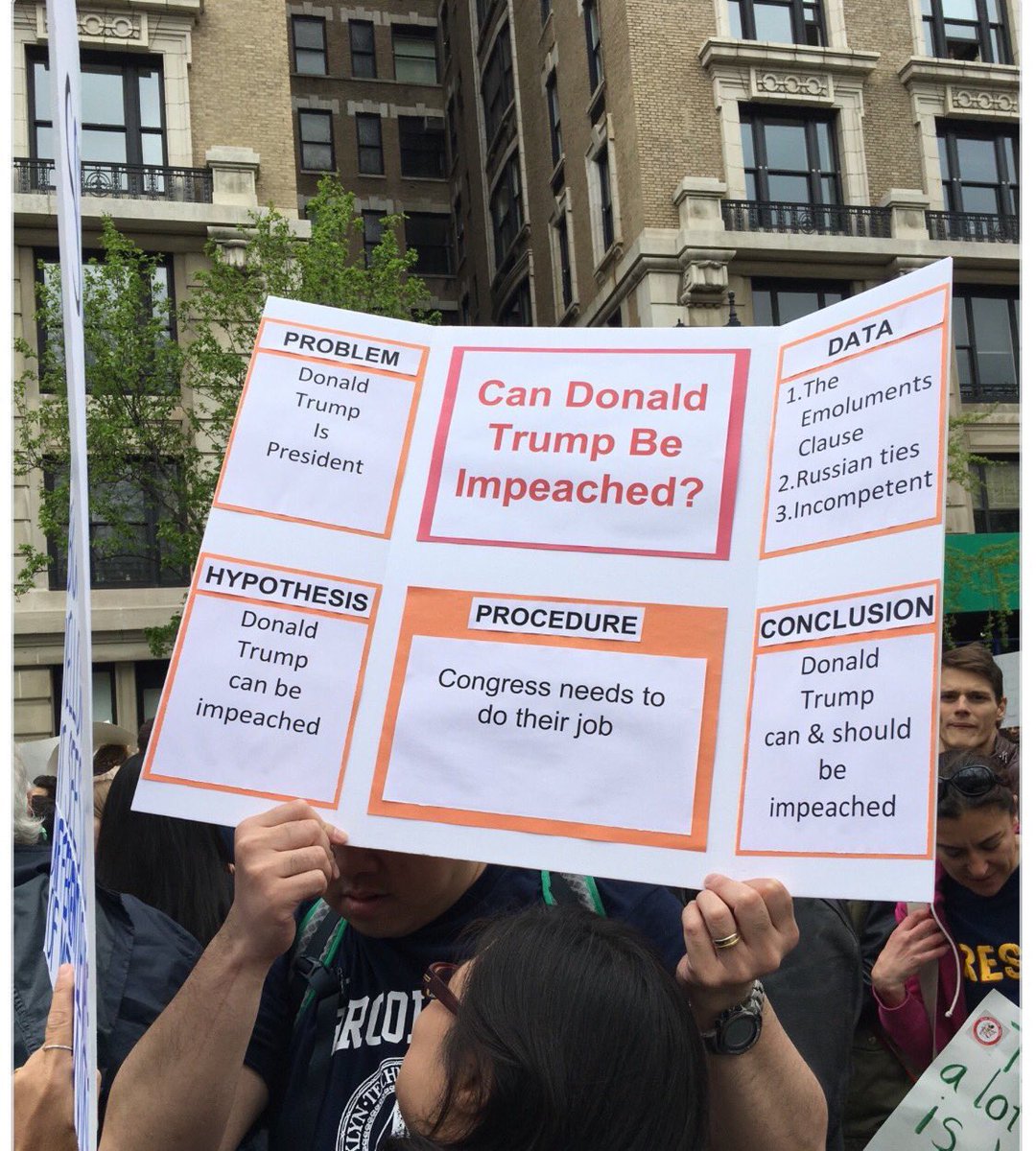 Signs from the #**MarchForScience** http://hill.cm/FLhzH4u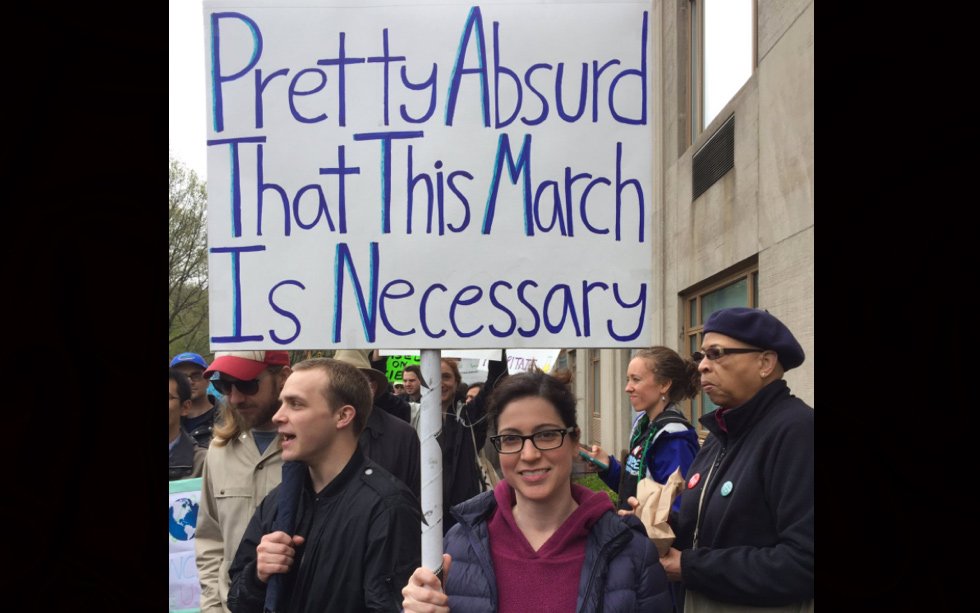 Kumail Nanjiani Retweeted NBC Chicago
Kumail Nanjiani added,
0:52
NBC ChicagoVerified account @nbcchicago
This is what it looked like as more than 40K people took to the streets of Chicago for the #MarchforScience: http://nbcchi.com/hKX5GBx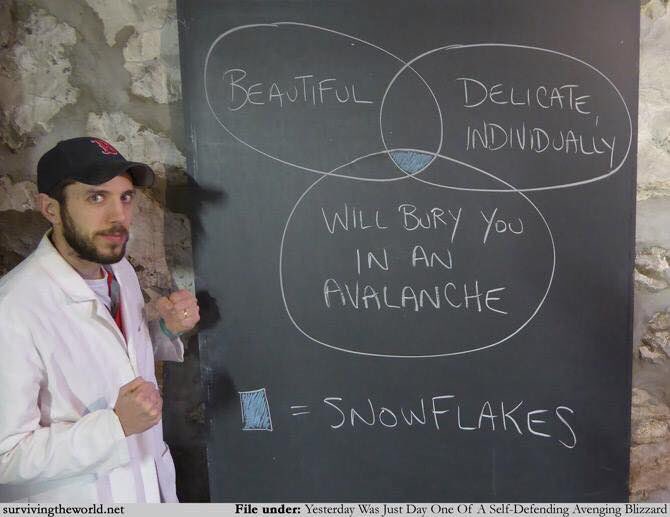 Climate researchers in Antarctica show support for #**MarchForScience** http://hill.cm/UYXmIyv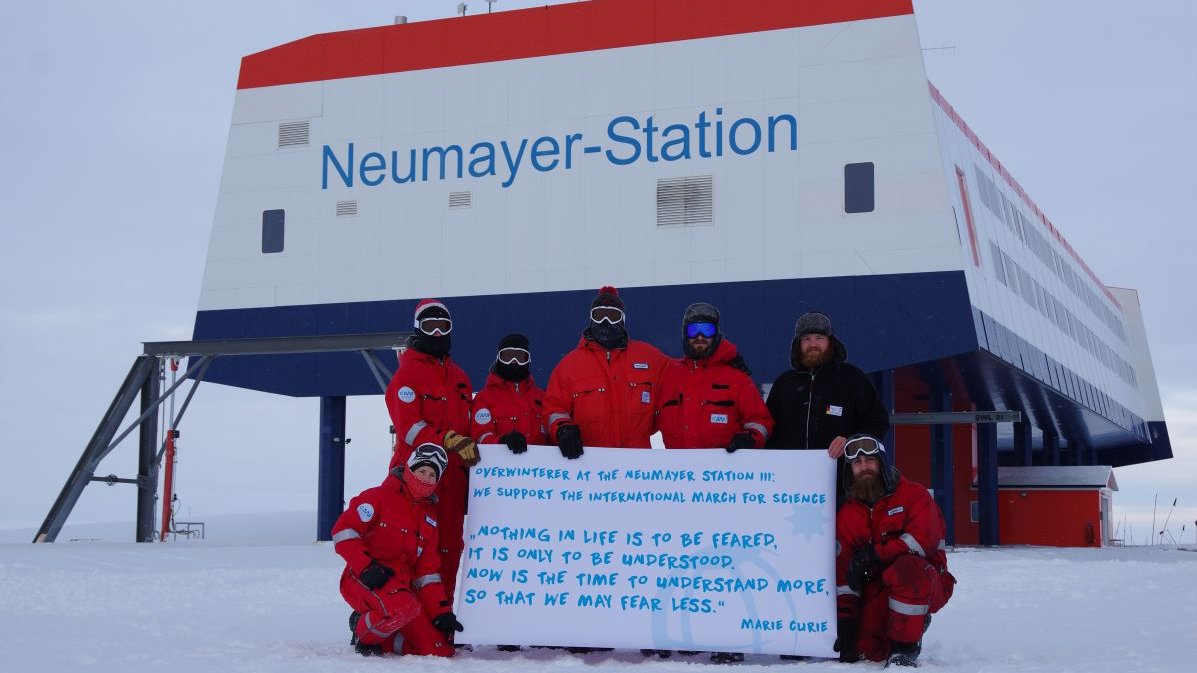 There's a March For Science on all 7 continents– even Antarctica http://cnn.it/2pQXUY5

Today we marched for a future dominated Scientific Inquiry and Truth! #**MarchForScience** #EarthDay

#ScienceMatters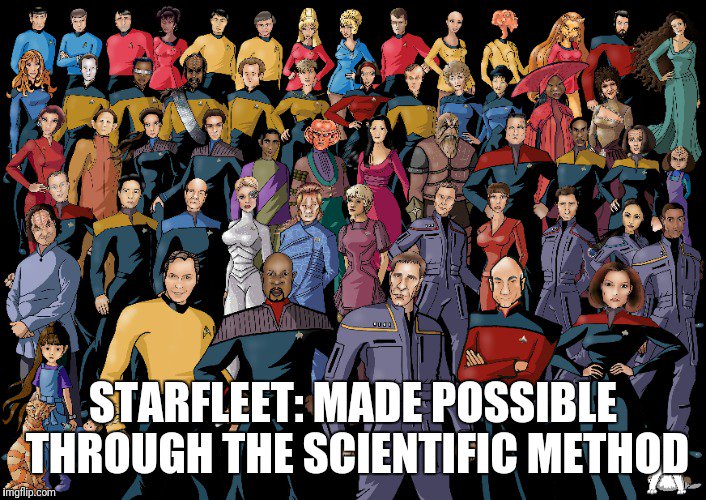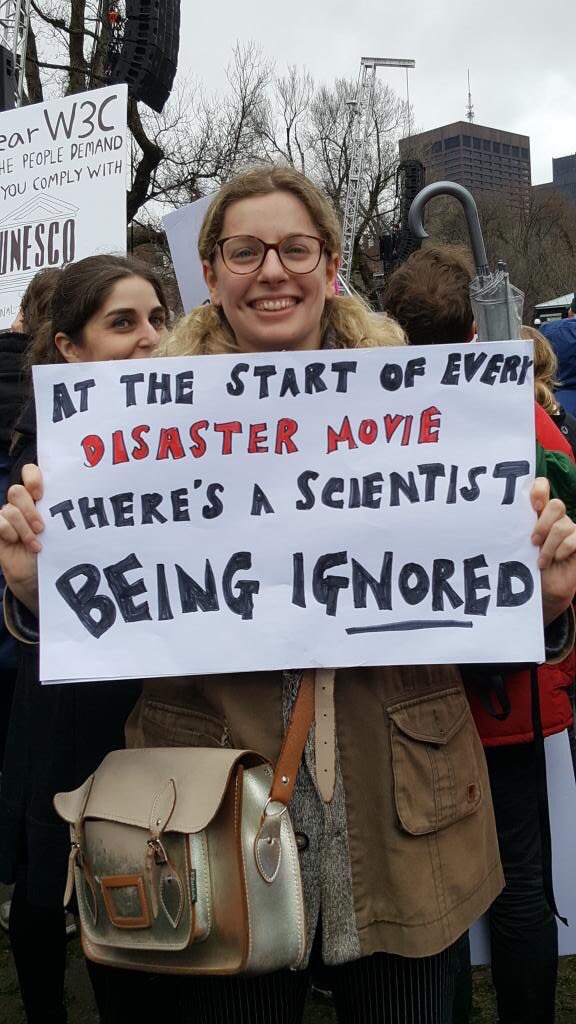 72% of GOP doubt Obama's citizenship and half believe Trump won popular vote. The GOP needs an education. #**marchforscience** #resist #trump
We tried to live without science once. We called it The Dark Ages. #**MarchForScience** #MarchForScienceLA

Thanks to all the scientists on Earth. #EarthDay

#**marchforscience** #TheResistance

Look how people care more about truth & facts than your lies.

👏#**MarchForScience**
We may live in the age of "fake news" and "alternative facts". But today, truth fought back. #**MarchForScience**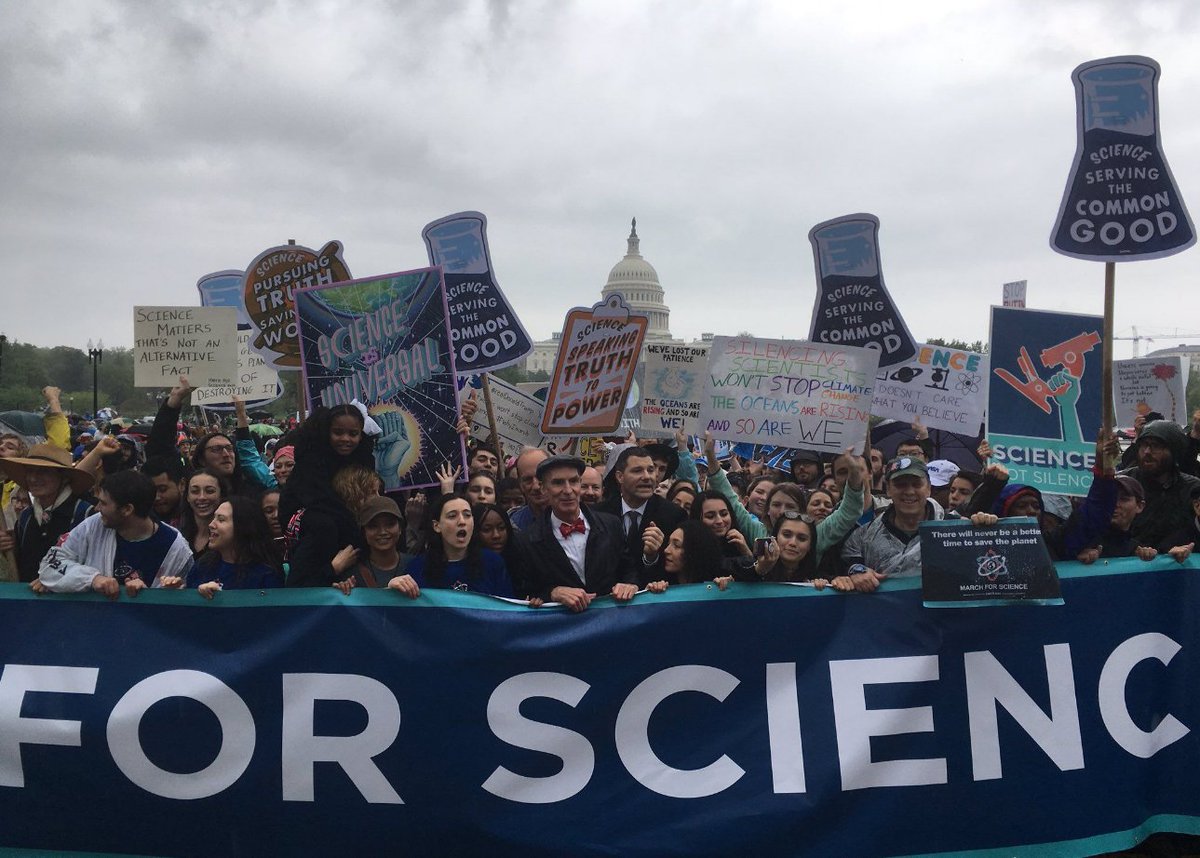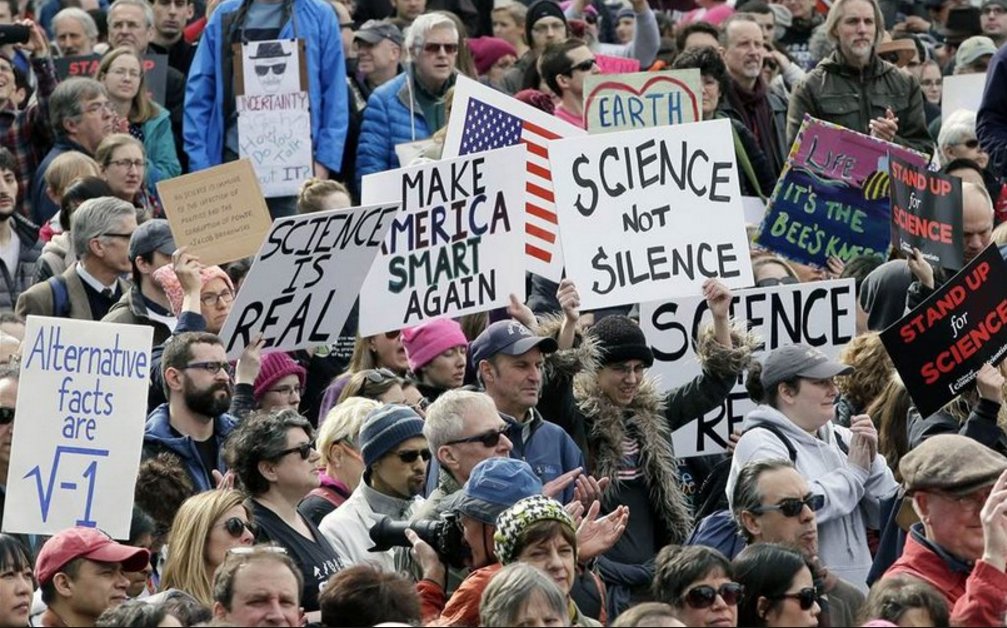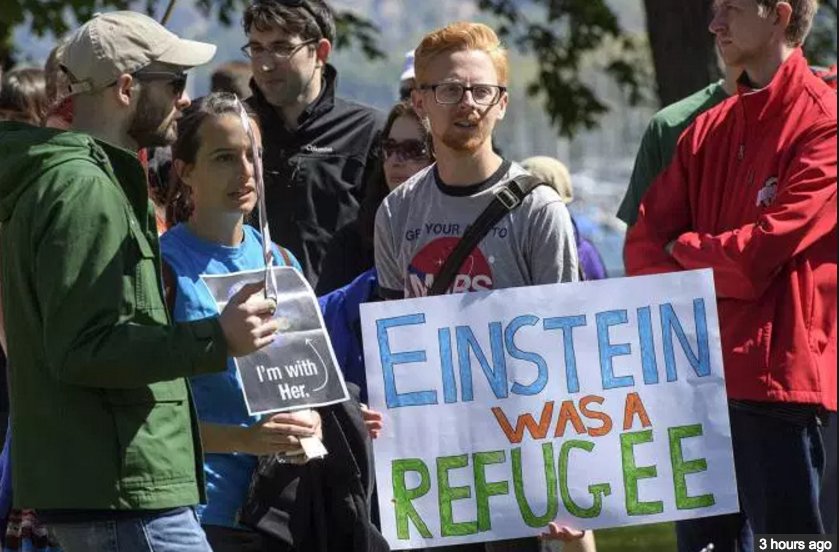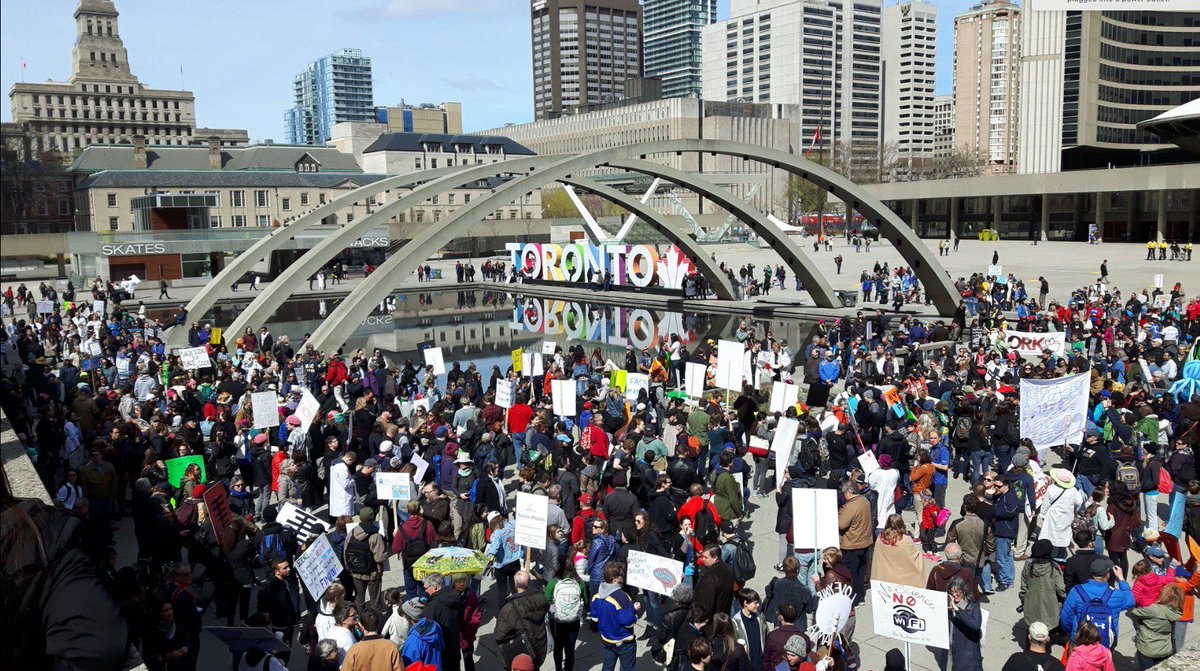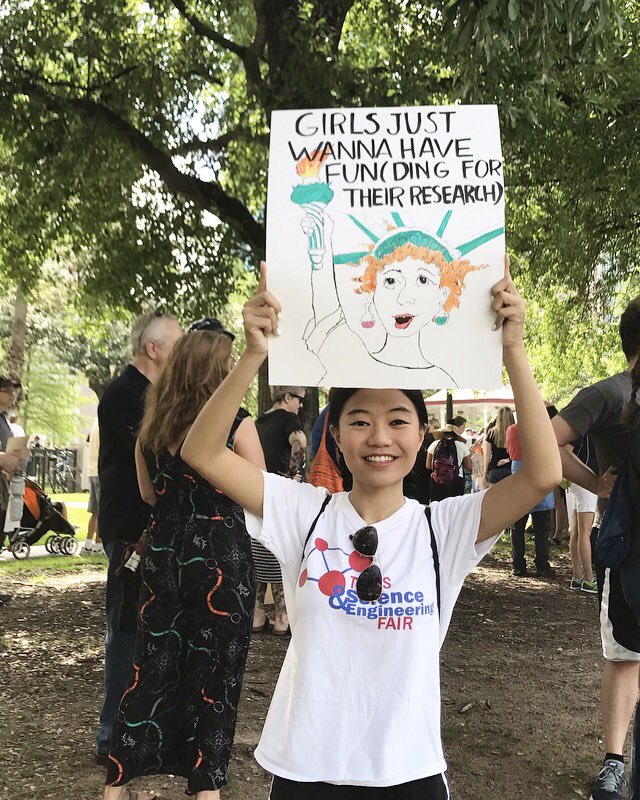 Omtale af March for Science på Internettet:
Som en virus har middelalderlig tankegang spredt sig via moderne elektroniske kommunikationsmedier. Vi stoler ikke længere på den etablerede videnskab.
Vi lytter hellere til simple kostråd på sociale medier end til forskning baseret på årtiers studier af store befolkningsgrupper. Vi tror hellere på husmoderen, der kalder sig behandler, end overlægen med universitetsuddannelse og livslang erfaring. Vi lader os ikke overbevise af massiv evidens, hvis det ikke harmonerer med vores egen verdensopfattelse. Politikere lave love baseret på fornemmelser, og verdens mest magtfulde regering har lanceret nonsens-begrebet "alternative facts".
Men lørdag den 22. april gør folket opstand.
March for Science afholdes i flere hundrede byer over hele verden for at vise, at folket kræver viden og fornuft. På ScienceBlog.dk er vi med. Vi liveblogger begivenheden hele dagen, og vi har bloggere på gaden ved tre af marcherne: Aarhus, København og San Francisco.
Følg med på ScienceBlog.dk nu på lørdag.
#videnskabervigtigt #marchforsciencedk
For all that can be said about this remarkable chapter of history, one thing is certain: we are living in a golden age of protest signs.Saturday is the March for Science. In Washington, DC and more than 500 cities around the world, protesters will rally behind the radical idea that scientific inquiry and responsible environmental stewardship are good and useful things.Scientists are naturals at the protest-sign game, which favors the clever and creative. But for marchers more used to expressing their ideas in multipage research papers, Quartz is here to help. We've compiled our favorite science-themed protest signs from previous marches. Go get some poster board (you might want to hurry) and start painting.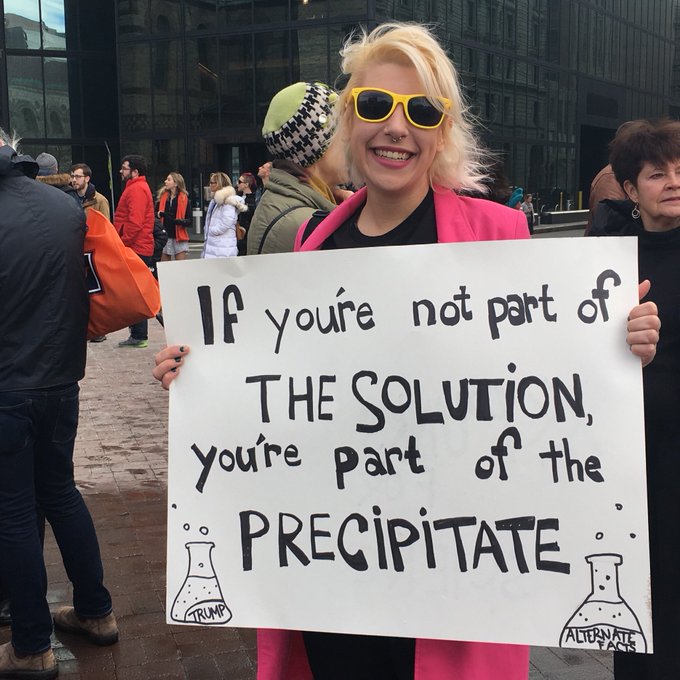 View image on TwitterAnother enthusiastic sign maker from today's #StandUpForScience Rally in #Boston during #AAAS2017
View image on TwitterMy dad repping it at the #StandUpForScience rally today. #AAASmtg #Boston #ScienceNotSilence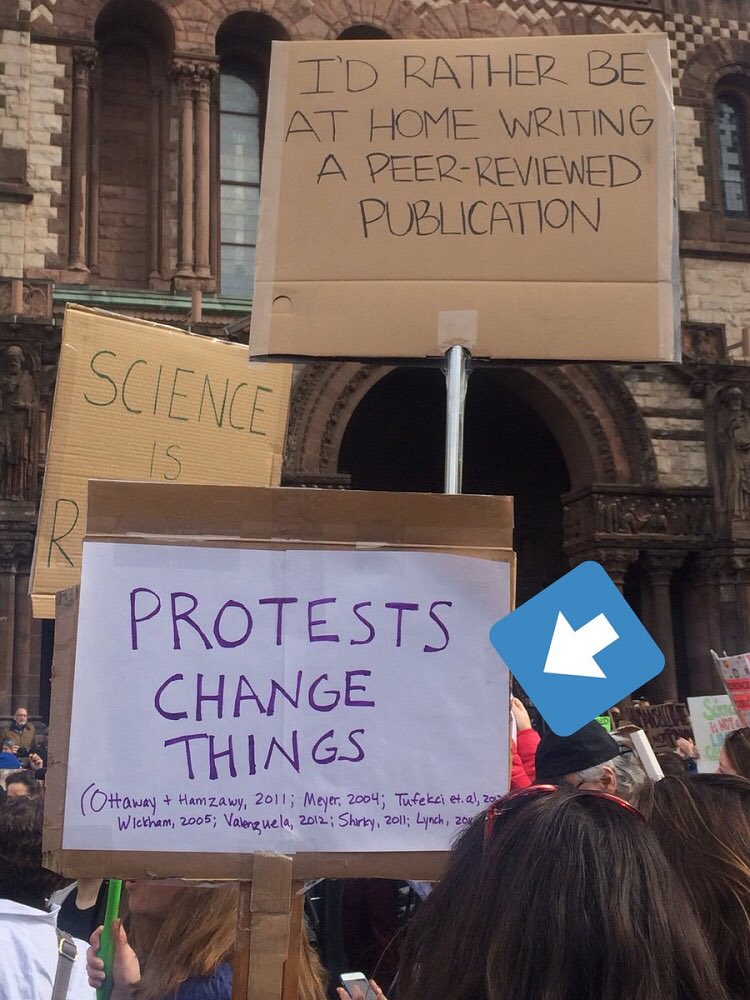 View image on TwitterBrain off, scrolling through funny science protest signs and then… "Oh hey, I've read some Tufekci…" #MSUEPET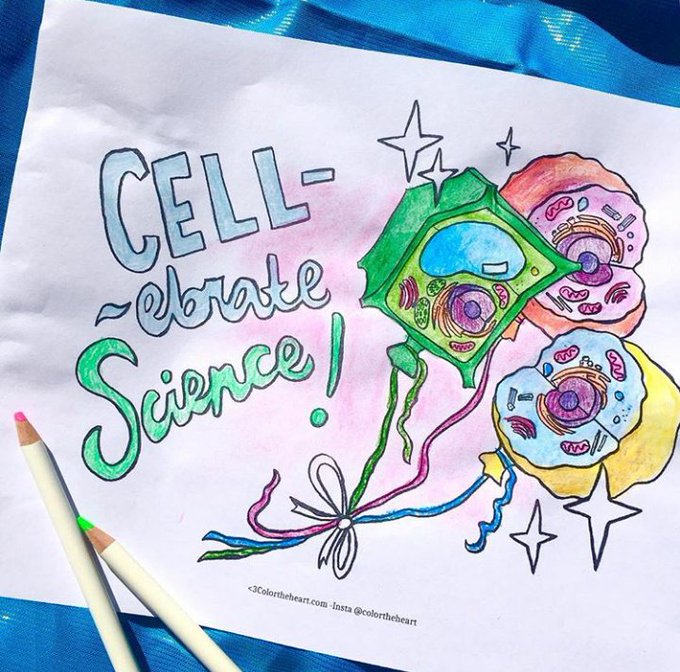 View image on TwitterThx @colortheheart for making and sharing this cute cell diagram coloring page!
https://qz.com/963703/the-best-protest-signs-for-the-march-for-science/
= = = = = = = = = = = = = = = = = = = = = =
https://qz.com/ (engelsk webside om forskning og samfund)
= = = = = = = = = = = = = = = = = = = = = =
!Science teacher Jackie Scott will be in the streets this Saturday in Little Rock, Arkansas. "I march because my middle school students deserve to have a better world," she wrote. "They deserve to see what real research looks like and sounds like when it is communicated."
From Oklahoma to Greenland, scientists and their champions will gather on April 22 for the much anticipated March for Science. And in many ways, the event is already a success: because thousands of scientists are speaking up, millions of people are considering how science actually matters to our lives.
We talk about how the government collects critical data to set air pollution standards. We discuss how investments in science have prevented pandemics. We examine how a physician helped expose the lead poisoning crisis in Flint, Michigan, and how a failure to collect data and ask the right questions made it worse.
==
The March for Science has started conversations within many families about scientists as public servants, my own included. My father's cousin Barbara will march with me and other family to honor her late husband (and occasional scientific collaborator) Marvin, a renowned computational chemist.
It also brings visibility to other underrepresented groups in science. "I march to show that even a small town gay boy from Montana can become one badass inked astrochemist," wrote Montana native Jay Kroll.
Sadly, the march also laments the collective failure of our politics to use science to address the grand challenges of our time. Ford Foundation president Darren Walker recently spoke of the poverty of imagination:
"It's a poverty of imagination that diminishes our discourse, curtails curiosity, and makes our interactions petty and small. A poverty of imagination that breeds distrust for institutions and, increasingly, for information. A poverty of imagination that breeds distrust of other people who do not look or think like us. A poverty of imagination that shrinks our sense of self and our sense of a lofty and inspiring common purpose, luring us to the extremes rather than leading us towards the extraordinary."
Science provides us with one essential tool to escape this quagmire. And in labs, schools, and businesses around the world, researchers are redefining their rightful role in society. Organizing, and demonstrating when necessary, has entered the scientific mainstream.
==
No longer are we simply debating whether experts should engage in public life because of an unsupported fear that science will be further politicized. Instead, scientists are exploring how they can best push back on actions that undermine the collection of data and development of independent analysis and, in turn, weaken our collective ability to address tough challenges. "We are a driving force across the entire planet for health and safety and reducing costs and reducing risk," said University of Washington ocean scientist Sarah Mhyre.
This time, it feels different. When the administration of President George W. Bush censored scientists who studied agricultural pollution, and Vice-President Dick Cheney personally pressured scientists to change endangered species analyses, it took nearly three years for the scientific community to identify a problem and muster any kind of response.
During the Obama administration, scientists were quicker to call out abuses of science, castigating the president for failing to set a science-based ozone standardand politicizing the science on emergency contraception. After the latest election, scientists began organizing before Inauguration Day, issuing a statement setting expectations for the Trump administration and Congress and scrambling to protect critical government data.
And as they march to combat outside threats, some scientists are attempting to address the significant diversity and inclusion problems within science that the march organizing process made all too clear. "This pulling back of the veil is a chance to have hard but necessary discussions, and to do better, individually and collectively," wrote marine biologist Ayana Elizabeth Johnson.
"I march for science to bring visibility to women of color, particularly black women, in engineering and technology," wrote systems engineer and St. Louis march co-organizer LaShana Lewis.
==
As with any political gambit, there are critics. Roger Pielke, Jr. is right to argue that invoking facts as an opposition strategy can backfire, and to caution that attacks on President Trump without any alternative solutions will likely fall flat.
Some fret that a march without a single, well-defined theme will fail. It's certainly challenging to coordinate any group around a consistent message, and doubly so in the science community, where dissention is cherished. There will be many signs that are poignant, and some that miss the mark.
In some ways, that's okay. Decentralized, bottom-up organizing can be extremely effective. Scientists who will be marching in Indianapolis have meetings scheduled with their congressional representatives the following week. The St. Louis March will register people to vote. To support local advocacy work, the American Association for the Advancement of Science and the Union of Concerned Scientists are both webcasting training sessions for scientists to explore how they can engage in the weeks and months ahead.
The March for Science is spawning a new generation of scientists who see public engagement as a responsibility. "Striving to understand the world leads us to new innovations which improve our lives, such as more efficient agricultural practices, better medical procedures, and technologies that allows us to connect in new ways," explained University of Wyoming graduate student Abigail Hoffman about her decision to march. A movement is building, and there may be no stopping it.
Michael Halpern (@halpsci) is deputy director of the Center for Science and Democracy at the Union of Concerned Scientists.
This post was amended on 19th April to correct a typo that implied Dick Cheney is a former President rather than Vice-President of the United States.
https://www.theguardian.com/science/political-science/2017/apr/19/why-the-global-march-for-science-is-already-a-success
The March for Science (formerly known as the Scientists' March on Washington)[3] is a series of rallies and marches set to be held in Washington, D.C. and over 500 cities across the world on April 22, 2017.[4][5][6] According to organizers, the march is a non-partisan movement to celebrate science and the role it plays in everyday lives.[7] The main goals of the march and rally are to call for science that upholds the common good and to call for evidence-based policy in the public's best interest.[6][8]The March for Science organizers and supporters say that support for science should be nonpartisan.[9][10][11] The march is being organized by scientists skeptical of the agenda of the Trump administration,[10] and critical of Trump administration policies widely viewed as hostile to science.[12] The march's website states that an "American government that ignores science to pursue ideological agendas endangers the world."[9][10]Particular issues of science policy raised by the marchers include support for evidence-based policymaking,[12] as well as support for government funding for scientific research, government transparency, and government acceptance of the scientific consensus on climate change and evolution.[9][10] The march is part of growing political activity by American scientists in the wake of the November 2016 elections and the 2017 Women's March.[12][11][13]
Founding Fathers and past presidents[edit]
Several Founding Fathers of the United States had an interest in science. Benjamin Franklin was a scientist with his foundational discoveries on electricity.[14] "Like Franklin, Thomas Jefferson, John Adams, James Madison, and George Washington were all avid students of the natural and physical world."[15]
A number of later presidents had interests in science and promoted pro-science policies; these include Abraham Lincoln, Theodore Roosevelt, John F. Kennedy, Jimmy Carter, and Barack Obama.[16][17] A 2010 editorial in the scientific journal Nature warned of "a growing anti-science streak on the American right" and argued that the rising trend threatened the country's future, which "crucially depends on education, science and technology."[18][19] Writing in the Scientific American, Shawn Lawrence Otto, author of The War On Science,[20] wrote: "It is hard to know exactly when it became acceptable for U.S. politicians to be antiscience."[21]
Donald Trump[edit]
As a candidate in the 2016 U.S. presidential election, Donald Trump referred to climate change as a hoax.[22] He also promised to resume construction of the Keystone XL Pipeline and roll back U.S. Environmental Protection Agency (EPA) regulations adopted by the Obama administration.[23]
After Trump's election, his transition team sought out specific U.S. Department of Energy (DOE) employees who had worked on climate change during the Obama administration.[24] Prior to Trump's inauguration, many climate scientists began downloading climate data from government websites that they feared might be deleted by the Trump administration.[25] Other actions taken or promised by the Trump administration inspired the march, including pulling out of the Paris Agreement,[22] the stances of his Cabinet nominees, the freezing of research grants,[26] and a gag order placed on scientists in the EPA regarding dissemination of their research findings.[1][27][28] In February 2017, William Happer, a possible Trump science advisor with skeptical views on human caused global warming, described an area of climate science as "really more like a cult" and its practitioners "glassy-eyed".[29] ScienceInsider reported Trump's first budget request as "A grim budget day for U.S. science" because it contained major funding cuts to NOAA's research and satellite programs, the EPA's Office of Research and Development, the DOE's Office of Science and energy programs, the U.S. Geological Survey, the National Institutes of Health, and other science agencies.[30]
Planning[edit]
Co-headliner Bill Nye, 2016
Co-headliner Lydia Villa-Komaroff in 2013
The idea to create a march was inspired by the 2017 Women's March of January 21, 2017, and originated from a discussion in Reddit.[1][31] The organization created a Facebook group, which grew from 200 members to 300,000 in less than a week.[32][31] Individual scientists have both applauded and criticized this development.[33]
The protest is set to occur on Earth Day,[34] with satellite rallies planned in hundreds of cities across the world,[4] including:
During the American Association for the Advancement of Science (AAAS) annual meeting in Boston, scientists held the "Rally to Stand Up for Science" at Copley Square on February 19.[44][45]
Bill Nye, Mona Hanna-Attisha, and Lydia Villa-Komaroff are headlining the march, and serve as honorary co-chairs.[2]
The march will proceed to the National Mall, where scientists will discuss their work.[46]
Reception[edit]
Support[edit]
On January 26, 2017, U.S. Senator Bernie Sanders of Vermont expressed his support for the march, congratulating "those scientists and researchers who are fighting back".[47] U.S. Representative Bill Foster of Illinois, a physicist and the only current member of Congress with a Ph.D. in a natural sciences field, will join the march, "not as a Democratic member of Congress, but as a scientist."[48] Foster said that he viewed the march as political, but not partisan, saying, "if you see a specific policy that is inconsistent with the known principles of science, every citizen who is also a scientist should speak out."[48]
In February, the American Association for the Advancement of Science (the nation's largest scientific organization) and other science groups announced their support for the march.[2] Rush Holt Jr., the chief executive officer of the AAAS, expressed support for scientist involvement in politics.[49]
Criticism[edit]
A number of scientists have voiced concerns over the march. Sylvester James Gates warns that "such a politically charged event might send a message to the public that scientists are driven by ideology more than by evidence".[50] William Happer[51] stated that "there's no reason to assume the president is against science" while regarding the march.[50] Writing in the New York Times, Robert S. Young argues that the march will "reinforce the narrative from skeptical conservatives that scientists are an interest group and politicize their data, research and findings for their own ends."[52]
Responding to criticism surrounding the political nature of the march, meteorologist and columnist Eric Holthaus wrote that the scientific field "has always been political" and referred to the example of Galileo Galilei's confrontation with the political order. Holthaus wrote that the scientists must also protest when "truth itself is being called into question".[53]
See also[edit]
https://en.wikipedia.org/wiki/March_for_Science
= = = = = = = = = = = = = = = = = = = = = =
The March for Science champions robustly funded and publicly communicated science as a pillar of human freedom and prosperity. We unite as a diverse, nonpartisan group to call for science that upholds the common good and for political leaders and policy makers to enact evidence based policies in the public interest.
The March for Science is a celebration of science. It's not only about scientists and politicians; it is about the very real role that science plays in each of our lives and the need to respect and encourage research that gives us insight into the world.
Nevertheless, the march has generated a great deal of conversation around whether or not scientists should involve themselves in politics. In the face of an alarming trend toward discrediting scientific consensus and restricting scientific discovery, we might ask instead: can we afford not to speak out in its defense?
There is no Planet B. Join the #MarchForScience.
= = = = = = = = = = = = = = = = = = = = = =
Tegn abonnement på


BioNyt Videnskabens Verden (www.bionyt.dk) er Danmarks ældste populærvidenskabelige tidsskrift for naturvidenskab. Det er det eneste blad af sin art i Danmark, som er helliget international forskning inden for livsvidenskaberne.
Bladet bringer aktuelle, spændende forskningsnyheder inden for biologi, medicin og andre naturvidenskabelige områder som f.eks. klimaændringer, nanoteknologi, partikelfysik, astronomi, seksualitet, biologiske våben, ecstasy, evolutionsbiologi, kloning, fedme, søvnforskning, muligheden for liv på mars, influenzaepidemier, livets opståen osv.
Artiklerne roses for at gøre vanskeligt stof forståeligt, uden at den videnskabelige holdbarhed tabes.